By


It was when I read "Twelfth Night" that the following quote gained a very interesting context: "Some are born great, some are made great, and some have greatness thrust upon them."
When I learned last year that the Philippine Educational Theater Association (PETA) was going to adapt the comedy and set it in the film scene of the 1960s that my curiosity was piqued. Rody Vera took the studio system and made it into a set-up that made sense.
"Producers were indeed like royalty," Vera told the assembled press in a post-performance forum.
"D' Wonder Twins of Boac" works in the milieu with the prevailing atmosphere that society has forgotten much about the first Golden Age of Philippine Cinema, and what came after.
Studio names like Sampaguita and LVN survive in nothing more than crumbling compounds in the New Manila area – not far from PETA's present place. There is also a sense that, beyond a few plays taught in some high schools, some of Shakespeare's more interesting work has not found wider resonance around these parts. But what PETA has achieved this time is much more than I expected.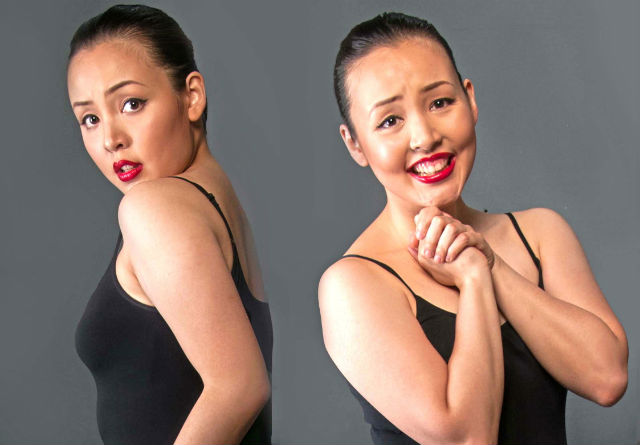 Cris Villonco stars as both Viola and Sebastian in "D'Wonder Twins of Boac."
It started with the setting. A theater in the round is not the ideal place to stage a comedy, as director Maribel Legarda said in the same forum, "because there is nowhere to hide."
In the light of what "Twelfth Night" does, and of what this play does, it works. Vera's script, like Shakespeare's, relies on the fact that the audience is all in on the joke and we really know what happens. Or do we? The scene transitions, with the set changes, were staged to feel like what happens in a film shoot, and those were amusing in their own right.
Which brings me to the acting. The ensemble was generally good, though I wonder what it would have been like with Bodjie Pascua doing Orsino (his alternate and the play's production designer, Lex Marcos, was the one on stage when I watched). And it is without qualification that I was impressed with the twins, played by Cris Villonco and Chrome Cosio, both of whom are working with Legarda and PETA for the first time. Villonco's Viola/Cesar was convincing enough, with her Cesar showing the appropriate degree of awkwardness, especially in Cesar's scenes with Olivia (played here by Shamaine Buencamino).
Still, there were some problems in this very early performance that needed resolution, and hopefully this will be the case by the time you read this. The music, mostly played by a live ensemble, led by composer and arranger Jeff Hernandez, sometimes drowned out the actors.
When the actors were able to have their voices heard on the sound system, it was sometimes spotty, especially when they were dancing. Ever since I started watching plays around these parts, I noticed that sound was a problem, though PETA usually has a very good technical track record on this score.
Vera's adaptation is the best thing about this play. It is very faithful to the source material, and it keeps much of what I enjoy about Shakespeare's original. Of course, it is up to a point, but I will not spoil it here. His attempt to add color by mentioning personalities from the time whose names still resonate (and others long since forgotten) might go over the heads of younger viewers, but it could pique new curiosity for this transitional time in Philippine cinema.
This comes at a very interesting time, indeeed. When the National Film Archive is up and running and slowly piecing together our film heritage. Organizations like the Society of Filipino Archivists for Film (SOFIA) are rallying behind the need to examine our cinematic past. Every so often, new treasures are dug up. A documentary thought to have been lost, from the same era where "Wonder Twins" was set, was premiered on the sidelines of Cinemalaya 2012. "Recuerdo of Two Sundays on Two Roads Leading to the Sea" was found in the archives of a New York organization which hosted a competition to which the documentary was submitted.
But for me, what resonated more was the message that our sense of forgetting has, as the saying goes, forced us to repeat it. Just as the film "Shakespeare in Love" was Tom Stoppard's way of talking about contemporary Hollywood in terms of the Elizabethan era, this play smacks with the sharp tang of recognition.
The Philippine studio system has not died yet. It has merely taken a different shape after a long absence.
There may be a need for plays like "D' Wonder Twins of Boac" to help us understand that our task of remembering is to make us think of a different future. It is a future where the cycles of the past are broken in favor of a cinema that both inspires and entertains, and challenges our presumptions about the way things are. To make us remember is a challenge this play has taken on, and in my view, it could serve this purpose. – KDM, GMA News
Catch it on its closing weekend run
MARCH 2, 2013 / SAT / 8PM / PETA
Ticket Prices: 1000, 800 and 600
Contact Us:
Robert Ceazar Marzan (0922.888.5348)
Jayme del Rosario (0927.202.2017)
Onay Sales (0917.908.0565)