Theater review: The 'Rock Of Ages' principle
Is rock 'n' roll. The kind that's in your bloodstream, the kind that you cannot fake. You see it the moment Nyoy Volante entered that stage, you see it in Aiza Seguerra and Jinky Llamanzares and Jett Pangan, of course. You can smell it on Migs Ayesa a mile away.
It is glam rock that's self-aware of its ironies, it is irony on overdrive in fact. Because watching "Rock Of Ages," you realize that it makes fun of itself, of this particular time and space and its music, as it takes you on a ride that might be unfamiliar, but should—will—resonate. Between "Glee" and the revived Journey with Arnel Pineda after all, some of these songs can only be familiar; and if you got into some glam rock as a teenager, well "Every Rose Has Its Thorn" and "More Than Words" must remind you of some boy or other, too.
It's entirely possible in fact, to watch this musicale and miss the narrative altogether, or find it to be secondary to the music. Or just, because it is a local production, secondary to the talent that's here. I've said this before and I will say it again: the value of these foreign productions, other than that we have access to them finally, is the way it showcases the kind of theatrical talent that we have, full stop.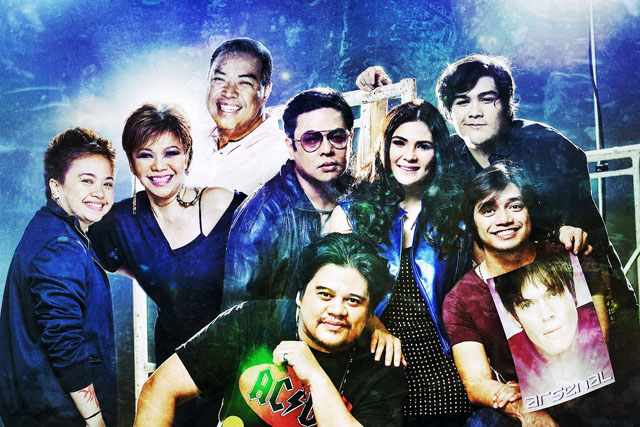 And so you can watch "Rock of Ages" and treat it like a rock concert instead of a piece of musical theater. This might allow us to be kinder to someone like Vina Morales (Sherrie), who could barely meld the singing and acting together, shifting too clearly between the two. Let's not get into the lack of mastery in English pronunciation that Morales obviously didn't have, which can only be a problem in the context of this cast.
Which had the accents down pat, and who all looked/felt/sounded like veterans on that stage. Even when they had to work with an audience that couldn't separate their off-stage personas from the ones gyrating and singing in front of them. Even when we were all just screaming and cheering and stomping our feet to the music and (maybe) not much else.
Case in point, Seguerra as the activist Regina held her own in the face of stronger voices such as Calvin Millado's and Pangan's; but when she came onstage as the dancer, the cheers from the crowd were obviously premised on what we know of Seguerra off-stage and off-cam. We know too much about her, and this works towards surprise, as it does towards comedy. That Seguerra can rakenrol it is just "Rock of Ages" Manila's luck.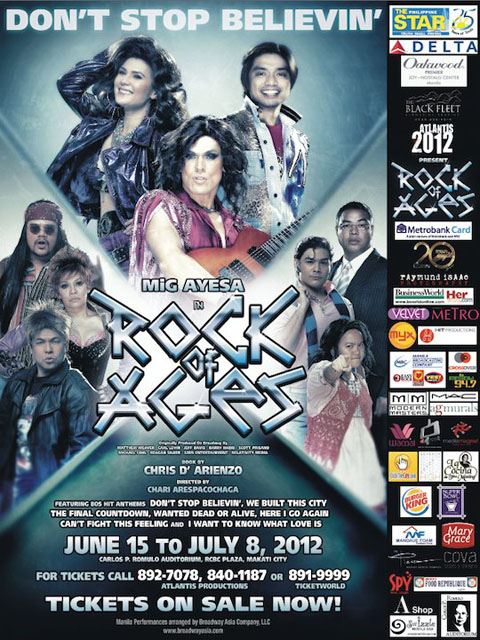 As they are absolutely and downright lucky to have most of this cast, not quite as jelled together as an ensemble as I'd like, but really quite competent if not downright awesome in the roles that they played. Pangan's role as narrator was en pointe, practically making cohorts out of the audience, as he skillfully did the whole breaking of the fourth wall scenes. Jamie Wilson as Dennis, the owner of the bar within which much of this story takes place, is the perfect counterpoint to Pangan's Lonny, their uncanny combination allowed for the funniest of and most absurd of endings for their story.
Llamanzares' portrayal of the mother figure Justice is one that takes that stage and outsings most every other presence on it. Most, because there are Ayesa (Stacee Jaxx) and Volante (Drew), central character and main protagonist respectively, who are a sight to behold onstage. Ayesa is as expected: like a man made to play that role. He looked like he had breathed life into that character, 80's glam rock excessive and abusive as it is. Ayesa is exactly who you expect in that role, and he doesn't disappoint.
But Volante, good lord. The first time I saw him onstage it was in the repeat run of "In The Heights" in March, in a lead role that had him rapping and singing, moving and dancing on that stage like the Latino he needed to be. I couldn't but wonder who this guy was, and why I was only seeing such talent at this point. I was floored.
When he sang his first note on that "Rock Of Ages" stage as Drew, my jaw dropped. And as he hit note after glam rock note, from Twisted Sister's "I Wanna Rock" to Warrant's "Heaven," I could only shake my head at how Volante had such command of that stage, how his voice rose above the ensemble's and Morales,' too. And we were only in the first part of Act I. By the time it closed with Whitesnake's "Here We Go Again," it was clear that Drew was the star of this story, Volante the star of this show.
Of course it's easy to think, heck, he's got the lead role, how could he not fill that stage with his presence? But in a musicale that's got 80's glam rock, on a stage that has stars from Pangan to Ayesa, Llamanzares and Morales, the less than talented would disappear, if not be eaten alive. Neither happens to Volante, and that is a feat in itself. That he doesn't just plod through this, or just hit his notes, is astounding. As with "In The Heights," but even more so here, Volante proves himself steady as he is quick on his feet, who sings without the uncertainty that television teaches the idiot-board-reading-performer, without the acting mannerisms that a TV or movie actor would need to unlearn for theater (uh, case in point: Morales).
Volante gets on that stage with nary a self-conscious bone, turning in the most believable portrayal of the rock star wannabe Drew, who's got his heart in the right place, but grows tongue-tied and clumsy in front of a girl he likes, yet can easily and logically turn on the confidence with some rock 'n' roll.
It's easy not to feel for any of the characters in "Rock Of Ages" precisely because this seems secondary to the excesses that are here. You know Volante rocks his role because you leave that theater with a very clear sense of Drew, with a voice that fits glam rock to a tee, a boyishness that stands out against the rest of 'em in 80's Hollywood.
Volante doesn't just give you rock 'n' roll here. He also proves that at the core of his acoustic singing, guitar playing, pop TV persona, is some good ol' soul and real musicianship. Along with the rest of this cast, from the awesome ones to those who tried their best, it's "Rock of Ages" on rakenrol overdrive.
And that's the way we do it in Manila. –KG, GMA News
Catch it on its closing weekend run!
JULY 27, 2013 / SATURDAY / 8PM /RCBC
Ticket Prices:

2000, 1750, 1500, 900 and 700
Contact Us:
Robert Ceazar Marzan (0922.888.5348)
Jayme del Rosario (0927.202.2017)
Onay Sales (0917.908.0565)
Buena Elizondo (0917.888.7179)
Last Year, all shows were SOLD OUT.
Don't wait until it's too late!